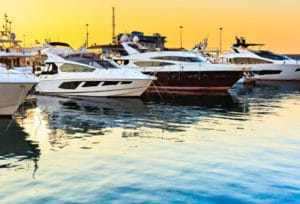 Keeping your boat looking its best while battling the elements is one of the biggest frustrations when it comes to boat maintenance. There is nothing more exasperating than spending a hot, sunny weekend buffing and polishing your boat only to be left with annoying swirl marks, holograms, and patches of stubborn oxidation. It's tempting to just give up and neglect this important step in boat maintenance, but the result can be very costly.
There is a way to care for your boat's gel coat, fiberglass, metal, and plastic easily in half the time with half the supplies and less fatigue – and you'll get a swirl-free showroom shine every time!
The Secret to Buffing & Polishing in ½ the Time
Boats have come a long way since they were made from papyrus and wood 8,000 years ago. Modern watercraft are now mostly constructed from fiberglass, gel coat, and aluminum – with these modern materials come modern problems such as corrosion, oxidation, cracking, and pitting. So how do you keep your entire boat – even the inside surfaces – clean, shiny, and protected with less effort? With the BuffPro® drum-style buffer.
The BuffPro system is superior to traditional rotary buffers because not only does it remove oxidation, corrosion and light scratches in half the time, it's impossible to make new swirl marks and holograms, and it removes old ones. Additionally, BuffPro was designed by a professional detailer with handles that minimize awkward wrist positioning for comfort and speed. Restoring your boat to a glossy shine quickly means more time on the open water!
"This one tool has literally helped me build the company I work for. With its many pads and polishes for metal, paint and gel coat boats, I've been able to offer more services then I could've imagined without swirl marks and in half the time! Each item was built with quality for longevity in mind; from the pads to the Buffer itself. Let's not forget the customer service; it's very comforting to know if I have an issue or an order, it's always Kevin answering the phone." – Tri-Parts Polishing, Dylan Flowers, Effingham, IL
Boat Maintenance with One-of-a-Kind BuffPro Benefits
The BuffPro polisher is truly one-of-a-kind and is safe to use on most surfaces including bare metal, paint, stone, plastic, fiberglass and gel coat. To get a feel for how easy BuffPro is to use, take a couple of minutes to watch our short how-to videos and see for yourself the amazing before and after demos.
So easy to use, a novice can get a perfect shine the very first time.
Due to the axial motion of the BuffPro, it is impossible to make swirl marks.
Eliminates old holograms and swirl marks for good.
Restores a high-gloss, durable shine with fewer steps and supplies.
Electric and lightweight, it improves accuracy and user fatigue.
The style of the pads requires less buffing compound and fewer pads.
Less wasted time and money on compound slinging, splattering, and cleanup.
Approved for use on all boat, RV, auto, airplane, and equipment materials – even stone.
The Importance of Buffing & Removing Oxidation
All water and weather, whether it be salt or fresh water, sun, wind, or rain, will affect your boat in many ways, including discoloration and deterioration of the fiberglass, gel coat, plastic, metal, and trim components. If you are in a saltwater climate, not only is the water harsh, but the air and year-round sun are extremely hard on your marine equipment. It's important to maintain your boat in these conditions more often.
Buffing and polishing regularly will keep the detrimental effects of the weather at bay and stop unnecessary aging, oxidation, surface cracking, and pitting and keep your boat looking its best while retaining its value. We know firsthand – if you can do it frustration-free with super results, you'll want to do it more often.
Also, if you have fiberglass floors, plexiglass windows, plastic headlights, or a cabin with fiberglass or stone countertops, doors, and sills, you can use it here too. Remove scratches and oxidation and give it a like-new shine throughout. You'll feel like you've bought a new boat and want to show it off!
"Being on a boat that's moving through the water, it's so clear. Everything falls into place in terms of what's important and what's not." – James Taylor
Trust Your Boat Maintenance to BuffPro and Save
There is simply no reason to spend hours or days and a small fortune buffing your boat, watercraft and boating equipment when you have access to BuffPro. At BuffPro, we are passionate about helping our homeowners, marinas, dealers, professional detailers, and restoration businesses save time, money, and effort and get the best results possible when caring for their prized possessions.
We even take the guesswork out of choosing the products you need for your boat maintenance that will keep your boat looking it's best. Our specially discounted Marine Restoration Kit is a foolproof bundle for all your marine restoration needs and we offer free shipping in the continental United States. Contact us if you have any questions or you can order online today. 1-800-699-4160